-
Before anything else, I want to say, it really feels good to be blogging again, after so many listless weeks. Those who read my last blog, know I began the year on a weight loss diet, while simultaneously trying to maintain my low sodium regimen, in order to reduce my mid-life ponch. It didn't work. Well OK, I
MAY
have lost a pound, but my energy level pretty much bottomed out. I spent days playing online SCRABBLE and drawing fictional characters, but my "giddy up" certainly didn't have enough "go" for me to write, or be productive in any meaningful way.
My friend recommended a B12 supplement to put some hitch in my get-along. While it may have contributed to my recovery, I didn't really begin to snap to 'til I got a double cheeseburger & fries into my belly a few weeks ago. The diet I was on is based on hard science, so I'm not going to claim the burger delivered key nutrients, I'd been denied, or anything like that. Such a claim would be scientifically unsupportable, and I don't want to sway anyone from following the advice of their doctor/dietician/personal trainer.
Diets and eating plans may be similar to religions, in a way. Each carries with it its own wisdom and set of good ideas, but what works for one person may not necessarily work for someone else. All I know for sure is that over the last two weeks, as I've weened myself from the diet, I've had more energy and I finally feel productive again. I'M BACK!
-
Now for the fun stuff.
In addition to being a food enthusiast, I'm a huge mystery buff. Last year I came across
Pie In The Sky
, a British mystery series chronicling the exploits of a Detective Inspector who moonlights as the Executive Chef of his own restaurant, which features traditional English cuisine. Of course, loving what I love, I had to check out the series, and have been watching it on
Netflix
ever since.
The protagonist's specialty is
*
Steak & Kidney Pie
, which is a savory pie filled principally with a mixture of diced beef, diced kidney (often of ox, lamb, or pork), fried onion, and brown gravy. Having never had the dish, my curiosity finally got the best of me, so I decided to spend my birthday at a British Pub I'd wanted to try, called
The Horse Brass
.
The Horse Brass
is a traditional English-style pub, located along SE Belmont St., in Portland. The old-world style window front rests in the middle of a red brick wall, shaded by a row of sidewalk dwelling trees. The interior of the pub is kept dimly lit, except for the dartboard area near the back. An array of British memorabilia, from pictures of royalty to football (soccer) posters, adorn the wooden brown-umber walls and ceiling. Tables displaying bottles of
HP Brown Sauce
, the popular English condiment, add the final touch to the British pub-like atmosphere, and the pleasant absence of loud music makes it comfortable for patrons to sit, drink, and converse comfortably.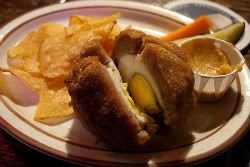 I began my meal with a
*
Scotch Egg
, which consists of a hard-boiled egg (with its shell removed) wrapped in a sausage meat mixture, coated in breadcrumbs or rolled oats, and then deep-fried. This one is served with a sweet-hot homemade pub mustard for dipping, a carrot stick, a slice of dill pickle, and "chips" (which I'll return to later). Never having had one before, I was expecting a golden fried two bite starter, roughly the size of an Easter Egg. I had the golden fried part right, but once the sausage and fry coating are added, the final multiple bite product is roughly the size of a softball, and is served sliced in a way which is reminiscent of Terry's Chocolate Orange. The egg was salty and savory with a mild spiciness from the sausage, without being greasy. While the sweet-hot homemade pub mustard was perfectly tasty in its own right, I preferred the straight undipped flavor of the egg itself.
Then I had the
*
Sausage Roll
, again served with the same sweet-hot homemade pub mustard, carrot stick, slice of dill pickle, and "chips." The English sausage wrapped in a homemade pastry shell was flaky on the outside with a scrumptiously tasting sausage in the center. As with the egg, you can dip it if you want, but it just doesn't need it.
Finally, it was time to devour the reason for my visit, the
Steak & Kidney Pie
, pieces of steak and kidney baked in a homemade pie shell, served w/ chips and pickle. Unlike store purchased pot pies, the pie shell completely encased the densely packed portion of savorous meats. In fact, the pleasingly high meat to gravy ratio was enough to keep the content of the pie moist without being overly runny and messy. For those who have never had kidneys, they have a rich flavor & texture much like chicken livers, and are delicious in a pie such as this.
I washed everything down with a draught pint of
Young's Double Chocolate Stout
from Bedford, England. The dark, practically black, beer has very creamy texture. Although "Chocolate" is in the name, it delivers more the flavor of dark roast coffee with a slight hint of bitter-sweet chocolate on the finish.
Lastly, my two cents about the "chips." Being at a English-style pub, when I saw, "served with chips," on the menu, I assumed chips meant fries. I was surprised to find it referred to kettle-style potato chips. They were crispy, salty, and warm out of the oven, and it was only my expectations which lead to my surprise. It said "chips" and I got chips.
All things being considered; food, beer, and atmosphere; I enjoyed my time at
The Horse Brass
, and
I give it a 9
out of 10 stars.
*= link to recipe, not written by me, for a particular dish
-