-
National Cheese Day (06/04/13)
is almost here. I, for one, LOVE cheese. In fact, before this blog had
a page on Facebook
I hosted a Facebook discussion group about
cheese
for over two years. Most of the time I was the ONLY person to post on the group's wall, but that was OK. I had a lot to say about
cheese
, and that was the place where I could say it.
Nobody knows how long cheese has been around, or exactly where it came from. A popular theory is that when milk was transported in bladder-like skins, circa 8,000 BCE, the churning, caused by the rough ride, resulted in the formation of curds, which eventually lead to the production of
cheese
. There's no conclusive evidence to support, or thwart, this theory though.
We do know that
cheese
dates back to 6,000 BCE, since the earliest found cheese strainers, found at Lake Neuchatel in modern Germany, date back to that era. The first written record of cheese appears a thousand years later, in Egypt, as part of an inventory of items the Pharaoh would be buried with. Two-thousand years later, murals depicting the art of cheese making, performed as a method of milk preservation, appear in the grasslands of the Sahara.
What is clear is that those early days of cheese spawned a chain of culinary creativity and experimentation across; Europe, the Sahara, and the Middle East; leading to a myriad of varieties which adopted the flavors and personalities of the regions where they were produced.
With approximately 500 varieties of cheese recognized by the I
nternational Dairy Federation
, umpteen versions of each of those varieties being produced, and more versions hitting the market, somewhere, almost every month no one knows exactly how many kinds of cheese there are in the world. Certainly no one has tried them all.
That being said, here's a countdown of my five favorites.

05. White Irish Cheddar
- In general
White Irish Cheddars
have a nice sharp bite and pleasant dry texture, which doesn't deliver the spongy mouth feel associated with so many orange
Cheddars
. Specific brands, such as
Kerrygold's Dubliner
, deliver an extra hit of sweetness just beneath the robust
Cheddar
flavor.
White Irish Cheddar
is your basic beer & cracker cheese, perfect for eating while watching Soccer, or other sports, with one's mates.
Beer Pairings
: Guinness, Young's Double Chocolate Stout
Base:
Cow's Milk
04. Madrigal Swiss
- I'm not sure what it means that my favorite version of "
Swiss
"
Cheese
is actually French. In any case, this "French cheese with holes" has a smooth semi-soft texture and sweet nutty flavor, which makes it an ideal everyday eating cheese.
Madrigal
compliments most sandwiches and tossed salads, but is equally good just on a cracker.
Wine Pairings:
Sauvignon Blanc, Zinfandel, Pinot Noir
Beer Pairings
: Stoudt's Belguim Triple, Fat Dog Stout, Young's London Porter
Base:
Cow's Milk
03. Smoked Gouda
- The young version of
Dutch Gouda
has a very mild flavor while its aged counterpart can taste reminiscent of an extra sharp Cheddar. Smoke it though, and it develops flavors of salt, smoke, and sometimes the wood it was smoked over. Just make sure your monger sells you a variety which has actually been smoked, NOT simply injected with smoky flavoring.
People do use this cheese for sandwiches, but, in my opinion,
Smoked Gouda
eats much better as a straight snacking cheese, while watching TV.
Wine Pairings:
Merlot, Zinfandel, Pinot Noir
Beer Pairings
: Bock Style Beer
Base:
Cow's Milk

02. Triple Crème Brie
- With extra cream added before the curd is formed, the
Triple Crème
version of this French staple, named for the
Brie
region of France, brandishes a mild milky flavor and a rich buttery texture.
Triple Crème Brie
is a special occasion cheese, perfect for parties and opening courses of holiday dinners. Special occasions aside though, this is also a comforting
cheese
on a cold day alongside crusty bread and a hot bowl of soup.
Wine Pairing:
Champagne
Beer Pairing:
Cuvee-Brut, Goose Island Sofie, or other sour beer
Fat Content:
75% or greater butterfat
Base:
Cow's Milk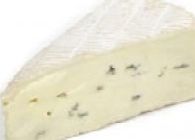 01. Cambozola
- is a triple cream blue-veined cheese made in Germany by Kaserei Champignon. This gourmet cheese is a delicious combination of the white molded rind
Camembert
and blue veined
Gorgonzola
. As a result, this is a spreadable creamy cheese featuring the salty bite of well aged blue cheese. The marriage of flavor & texture makes
Cambozola
my hands down favorite.
Cambozola
is a great cheese for appetizers, salads, turkey sandwiches, and
Cambozola Cream Sauce
.
Wine Pairing:
Cabernet Sauvignon, Bordeaux, Burgundy, Chardonnay
Beer Pairing:
Yukon Brewing's Arctic Red, Widmer's Hefeweizen
Fat Content:
70-75% butterfat
Base:
Cow's Milk
Cheeses of honorable mention
include; stinky creamy
Camembert
, the chive filled
Cotswald
, the Greek mainstay,
Feta
, and the
Stilton/Cheddar
combo,
Huntsman
.
Of course, these are merely my favorites, based on what I've tried so far. While being well versed on every single cheese is a practical impossibility, the exploratory attempt is sure fun. I'd encourage you to use
National Cheese Day (06/04/13)
as an excuse to visit your local cheese monger and pick up a
cheese
you've never tasted before. Who knows, you may find a new favorite.
Want to know more about
cheese
? You can sign up for my friend's,
Jennifer Meier's
, free weekly newsletter at
ABOUT CHEESE
, and/or subscribe to
Anne Saxelby's
podcast
Cutting the Curd
. Personally, I recommend both sources.
What's your favorite cheese?
Leave your answer in comments below.
-