-
Thanksgiving
is just around the corner, here in the states, and many of us are preparing to devour generous helpings of
turkey, stuffing, mashed potatoes & gravy, sweet potatoes,
Description: Tender, juicy roast turkey - the main attraction - with old-fashioned gravy, cranberry sauce, smashed potatoes, baked green beans, sweet and sour cod, steamed rice, pickled green papaya relish, flan, pigs in a blanket... |
Date: 11/23/2005 | Photographer: Ms. Jones from California | This photo is licensed under the Creative Commons Attribution 2.0 Generic license.

deviled eggs, cranberry sauce, sweet corn, various fall vegetable
s, and
pumpkin pie
just as the
Pilgrims
and the
Wampanoag
Tribe
had back in 1621. Well...., not exactly. Actually, the holiday's menu has evolved considerably over the last few hundred years.
For starters, while potatoes are a big part of our celebration, they first grew in South America and hadn't made their way into the Wampanoag diet at the time of the 1621 harvest celebration.
So, if there were no potatoes, what was served at the first
Thanksgiving
?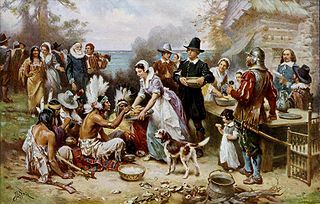 Title: The First Thanksgiving | Date: between circa 1912 and circa 1915 | Painter: Jean Leon Gerome Ferris (1863–1930) | This media picture is in the public domain in the United States. This applies to U.S. works where the copyright has expired, often because its first publication occurred prior to January 1, 1923.

While no one has found a complete menu from the historic celebration, gastronomic anthropologists are certain that the
Pilgrims
and the
Wampanoag
Tribe
were able to cook with;
waterfowl (goose, duck), wild turkey, venison, lobsters, clams, mussels, oysters, dried corn, corn meal, pumpkins, squashes, onions, porridge
, and
corn bread
; to dine upon at their 1621 harvest celebration. Surprisingly, experts claim that the turkey gave way to
goose, duck, and venison as the main courses
. Although less certain, anthropologists also think the diners may have eaten;
eels, chestnuts, walnuts, dried beans & peas, lettuces, spinach,
and
radishes.
For readers looking for a
"genuine Thanksgiving experience,"
I've compiled five recipes which should deliver the general flavor profile of the dishes the
Pilgrims
may have prepared. Of course, the recipes utilize modern ingredients, measurements, and equipment.
-
1. Cornbread
1 cup cornmeal
1 cup all purpose flour
1/2 teaspoon salt
1/2 teaspoon baking soda
1 cup buttermilk
1/2 cups butter
2/3 cups white sugar
2 eggs
Preheat oven to 375 degrees F (175 degrees C). Grease an 8 inch square pan.

Melt butter in large skillet. Remove from heat and stir in sugar. Quickly add eggs and beat until well blended. Combine buttermilk with baking soda and stir into mixture in pan. Stir in cornmeal, flour, and salt until well blended and few lumps remain. Pour batter into the prepared pan.

Bake in the preheated oven for 30 to 40 minutes, or until a toothpick inserted in the center comes out clean. [Source]
2. Pumpkin Soup
2 medium pumpkins (for recipe)
1 large pumpkin (for tureen)
2 cups chicken broth
1 cup water
1/4 cup maple syrup
1 teaspoon cinnamon
1/2 teaspoon nutmeg
1/2 teaspoon salt
1/2 teaspoon ginger
1 cup half and half
Toasted pumpkin seeds, optional
Preheat the oven to 350 degrees. Cut the 2 medium pumpkins in half, scoop out the seeds, and place skin-side down on a baking sheet. Bake for 35 to 45 minutes, or until soft. Scoop out the pumpkin flesh into food processor and puree until smooth. Pour pureed pumpkin into a saucepan and add the chicken broth, water, maple syrup and spices. Bring to a boil, then reduce to a simmer and cook for 30 minutes. Meanwhile, cut the top off the large pumpkin to create the soup tureen. The hole should be wide enough to fit a ladle. Hollow out the seeds, checking for holes and lining with plastic, if necessary. Remove the soup from heat and stir in the half and half. Pour the soup into the pumpkin tureen and serve garnished with toasted pumpkin seeds. [
Source
]
3. Roast Duck
1 (5 pound) whole duck
1/2 cup melted butter
2 teaspoons salt
2 teaspoons paprika
1 teaspoon black pepper
Preheat oven to 375 degrees F (190 degrees C).

Rub salt, pepper, and paprika into the skin of the duck. Place in a roasting pan.

Roast duck in preheated oven for 1 hour. Spoon 1/4 cup melted butter over bird, and continue cooking for 45 more minutes. Spoon remaining 1/4 cup melted butter over duck, and cook for 15 more minutes, or until golden brown.

[Source]
4. Boiled Lobster
4 quarts water
2 tablespoons salt
4 (1 1/2-pound) live lobsters
1 cup butter
Combine water and salt in a very large Dutch oven or stockpot; bring to a boil. Plunge lobsters headfirst into boiling water, and return water to a boil. Cover, reduce heat, and simmer 10 minutes. Drain and cool slightly.
Meanwhile, place butter in a medium saucepan over medium-low heat; cook 5 minutes or until completely melted. Skim solids off the top with a spoon, and discard solids. Slowly pour remaining butter out of pan, leaving remaining solids in pan; discard solids.
Place each lobster on its back, twist the body and tail shell apart, and cut the body shell open using kitchen shears. Remove liver and coral roe. Remove meat from tail shell. Remove intestinal vein that runs from the stomach to tip of the tail. Return tail meat to shell. Crack claws using a seafood cracker or nut cracker. Serve tail and claws with warm clarified butter. [
Source
]
5. Venison Roast
5 lb. venison roast

6 1/4 inch thick slices salt pork

2 lemons

2 tbsp. Worcestershire sauce

1 med. onion, chopped
Remove all fat from venison roast, season with salt and pepper. Wash salt pork to remove excess salt. Line roasting pan with salt pork. Place venison roast in pan. Add juice of 1 lemon, Worcestershire sauce, chopped onion and slices of remaining lemon. Cover and bake at 325 degrees for 2 to 3 hours or until done, adding hot water as needed. [
Source
]

-
Recipe collection prints as pages 3 & 4 for your recipe file or refrigerator.
HAPPY THANKSGIVING!
!
!
!
!
!
-