-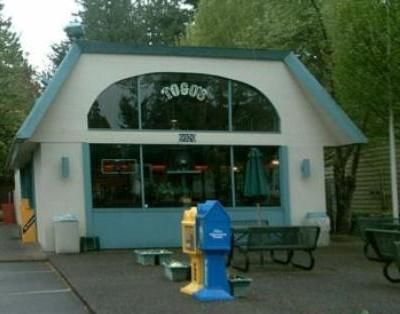 Togo's Sandwiches
first opened its doors in downtown San Jose, California, in 1967. Identified by a sign which read "Sandwiches To Go," the original restaurant was only large enough to accommodate four people at a time. Acquired by the Dunkin' Brands portfolio of fast-food restaurants in 1997, then by Mainsail Partners in 2007, approximately 350
Togo's
sandwich shops are serving more than 25 different kinds of sandwiches today.
Readers of this blog know that I rarely review food from restaurant chains, and I NEVER review fast food. A Whopper by any other name is still processed ground beef on a bun, eh. Thus, when a representative of the
Glass Advertising Agency
offered me a $10 gift card in exchange for reviewing their client's latest addition to their fall menu, I reached immediately for the delete key. Then I noticed their client was
Togo's Sandwiches
.
The name took me back, 20 years, to my university days in Corvallis. The professor I T.A.ed for, and who would later oversee my internship, got my hooked on
Togo's #9 (pastrami sandwich)
with
extra pepperoncini peppers
. So, for the sake of nostalgia, I agreed to the deal.
Not wanting to drive clear back to Corvallis, I found my nearest
ToGo's at 9920 SW Beaverton-Hillsdale Hwy, in Beaverton
. The hut shaped green trimmed eatery consisted of sixteen tables, divided into two dining areas by hip high wall, and a service counter staffed by Dave, the local owner, and a few other friendly employees.
Returning for fall are their two
Toasted Dip Sandwiches
. I'd planned to review the straight
Roast Beef Dip
(thin sliced roast beef, melted provolone cheese and horseradish mayo on a choice of five breads, with a side of beef au jus) when I spotted the
Triple Toasted Dip
.
The
Triple Toasted Dip
is piled with three meats;
thin sliced white meat turkey, thin sliced roast beef,
and
peppery pastrami
; topped melted provolone cheese, and horseradish mayo. Accompanied by a generous plastic ramekin of steaming hot beef au jus for dipping, the sandwich is served upon on a choice of five breads.
Mine was served on their soft Parmesan Cheese Bread, and was packed with a jaw stretching amount of savory meat. I could see the layer of cheese on the sandwich, but between the tastes of the meats, the mild spice of the creamy mayo, and the salty kick of the au jus, I didn't taste, or really miss, the flavor of the provolone.
The
Triple Toasted Dip
goes for $9.25 for a regular and $12.25 for a large. While the
Triple Toasted Dip
is pricier than some subs, many people will get one to two complete meals from the sandwich, even without the addition of chips.
This Togo's has earned 9 out of 10 stars from me.
-