-
With an array of cooking shows, travel shows, save your restaurant shows, and food competition shows to their credit, I've always thought it would be interesting for
Food Network
to air a food oriented news/talk show, where current food issues could be discussed. Thus, I was excited when I learned
Food Network
would be kicking off 2014 with the new talk show,
The Kitchen
.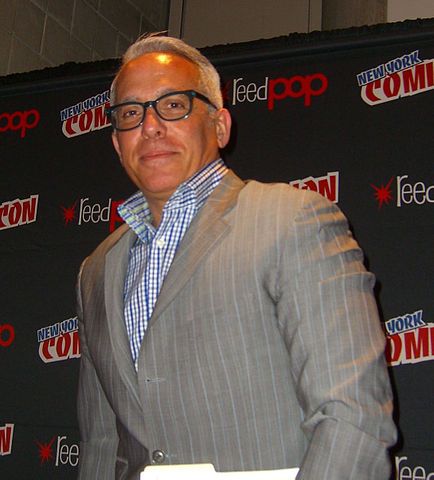 Title: Celebrity chef and restauranteur Geoffrey Zakarian | Date: 10/12/2012 | Photographer: Nightscream | This picture is licensed
under the Creative Commons Attribution 3.0 Unported license.
Airing Saturday mornings at 8am PST, the show, starring
Geoffrey Zakarian, Sunny Anderson, Katie Lee, Jeff Mauro, and Marcela Valladolid,
was to demonstrate signature recipes and examine current topics related to food.
After watching the first episode, it's undeniable that the show missed its mark, or at least hasn't found its groove yet. Rather than being informed on topics such as seafood fraud, the raw food debate, the mislabeling of packaged foods, the proposed Safe Meat and Poultry Act, proposed standards for humane treatment of food chickens, and other truly interesting food issues, viewers learned that
Sunny
is tired of the Cronut and the hosts really get along. Gee whiz, that's swell.
During an opening chat segment,
Chef Zakarian
, cooked, what looked like, eggs on a bed of kale. However, the cooking took place as background to overly shallow small talk, and nothing about the dish was never explained.
One segment compared specialty gadgets to common knives. Even though the demos made it clear that a quality knife could accomplish the same task as the gadget in question, usually with a finer degree of control, the hosts struggled to find something positive to say about the avocado dicer, or strawberry corer, seemingly to prevent offending potential sponsors. This fence sitting made the hosts come across as wishy washy and not particularly credible.
The best segment of the premiere belonged to
Jeff Mauro
who made "Chicago Gumbo" from leftover Chinese rice. While he coherently walked viewers through, what looked like, a very tasty recipe of; sweet Italian sausage, rice, red wine, Provolone, and veggies; was entertaining and informative, it wasn't enough to let me award
The Kitchen
more than
2 out of 10 stars
.
If
The Kitchen
is going to survive, it needs to evolve beyond fluff and tackle some real issues.
-