-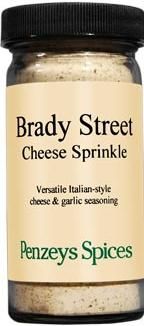 Subject: Brady Street Cheese Sprinkle 2 oz. jar | Source: Penzeys.com |
All my friends know I'm a foodie and popcorn junkie. With this in mind, one good friend gave me a 2 ounce jar of
Penzeys' Brady Street Cheese Sprinkle
(a $10.59 value) for Christmas this year. Named for a popular Italian street in Milwaukee, WI,
Brady Street Cheese Sprinkle
is a blend of Romano cheese salt, garlic, green peppercorn, basil and parsley.
I sprinkled some on a batch of popcorn. The blend gave the snack a cheesy salty kick, with a hint of pepper and an herbaceous undertone. It was one delicious bowl of popcorn.
Whether on popcorn, or added to sour cream (1 TB. sprinkle to 1 cup sour cream) to make a dip, I can't help thinking
Brady Street Cheese Sprinkle
would liven up any
New Year's Eve
party.
-