-
My mother is an animal lover, so I popped for tickets and took her to the opening of Disney's new documentary,
Monkey Kingdom
. After the movie she returned the favor by treating me to a late lunch/early dinner at the newly opened
Copper River Restaurant & Bar
at 7370 NE Cornell Road Hillsboro, OR 97124.
The restaurant sits where, the now defunct, Hillsboro branch of the On The Border used to be. Local restaurateur, Christie Burnett, oversaw the building's remodeling which features a fully stocked centrally located bar, a window enclosed dining patio, dark walls, and dimly lit box shaped chandeliers. The new look gives the restaurant a pleasant air of sophistication without coming across as being stuffy. On the off chance stuffiness had been a question, our friendly, chat eager, waiter, Alex, belayed such fears with his recitation of the establishment's brief history and his interest in my views on the upcoming Pacquiao/Mayweather fight.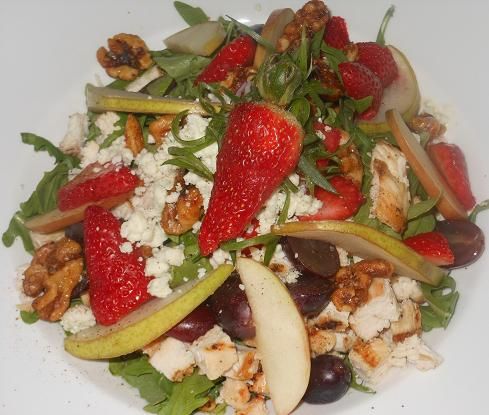 Subject: Copper River's Strawberry, Pear, & Apple Salad | Date: 04/17/15 |
Photographers: James & Bonnie Kiester | This picture was taken by the author of this blog. |
Choosing from the "
Entree Salads
" section of the menu, my mother had the $11.95
Strawberry, Pear, & Apple Salad
, consisting of wild organically grown arugula, strawberries, pear & apple slices, grapes, crumbled Gorgonzola, candied walnuts, grilled chicken breast, and a bit of Romaine all dressed with a lemon vinaigrette.
I had a few bites of her salad. The varied types of produce were fresh, crisp, and juicy, and their sweetness was complimented nicely by the salty blue cheese. The grilled chicken was well seasoned and tender with caramel colored grill marks and a savory grilled flavor. Tying the components together was a lemon vinaigrette which delivered flavors of citrus and garlic.
Being the meat lover that I am, I had the $28.95
Filet Mignon
from the "
Grill Classics
" portion of their menu. The steak was a 28 day aged center cut tenderloin, partially wrapped in smokey bacon, and topped with a demi-glace. This morsel is served with rustic buttermilk mashed potatoes and seasonal vegetables (in my case roasted asparagus).
I wish my picture of this gem and my dessert had been saved on my camera, but, alas, I'm a writer, not a photographer.
In any event, the steak was superbly seasoned and cooked to a perfect medium rare. Its slightly sweet demi-glace mixed with the meat's juices, adding an additional punch of flavor. Serving as a border between the meat and the creamy potato skin laced serving of mashed potatoes lay a strip of crisp bacon, which I added to bites of my steak for a supplemental hit of smokiness and light crunch.
My only complaint about the meal was with the asparagus. It had a good roasted taste, but the woody ends were left on a third of the spears on my plate. This can be the result of using one spear as a guide a chopping the entire bunch in single motion. If the spears aren't EXACTLY alike, this short cut can result in woody ends being left on some spears and edible flesh being severed from others.
I was happy to see healthy selection of local beers on their
beer menu
, including Burnside Brewing's Sweet Heat. I drank the sweet & spicy $6.00 pint with my steak and found it worked well against the savory beef.
Dessert was a pile of five hot
Donuts
(large doughnut holes), sprinkled with powered sugar and cinnamon, served alongside a jigger of warm house made caramel sauce. Since we were there between 4pm & 6pm, we got the dessert for the $2.95 Happy Hour price. The sweets were fluffy and light with a scrumptious cinnamon flavor, reminding me of Dutch Ebelskivers from my childhood. The caramel dipping sauce added another level of rich sweetness to the already delectable dessert.
For the most part, this was a very pleasurable dining experience, the ONLY deficits being the aforementioned asparagus tips and the music being a few decibels too loud for my personal taste. However, such hiccups won't keep me from returning to
Copper River Restaurant & Bar
, which has earned
9.3 out of 10 stars
from me.
Copper River Restaurant & Bar
's hours of operation are:
Sunday 11am to 11pm
Monday Tuesday Wednesday 11am to 12am
Thursday Friday and Saturday 11am to 1am
For more information visit
CopperRiverRestaurant.com
.
-