-
Arby's has released their
Loaded Italian Sub
consisting of ham, salami, pepperoni, melted Swiss cheese, banana peppers, lettuce, tomato, red onion, and red wine vinaigrette, all topped with garlic aioli, on a toasted Italian roll.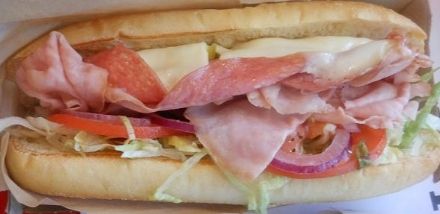 Subject: Arby's Loaded Italian Sub | Date: 07/29/15 |
Photographers: James Kiester & Dani Cogswell |
This picture was taken by the author of this blog. |
I was initially impressed when I got to my table and opened the sandwich box. The sandwich looked like the picture on the poster. How often does that happen?
The bread looked like a hard crusty roll. When I bit into it though, I found the roll was actually pretty soft. Another pleasant surprise.
As I ate, I could taste the sweet & salty ham and the lettuce, but that was it. The salami, pepperoni, melted Swiss cheese, banana peppers, tomato, and red onion added nothing in the flavor department. It reminded me of the Star Trek episode "Squire of Gothos," in which the alien made pretty replicas of Earth's food, but forgot to include properties of taste.
As for the sauces, near the center of the sandwich I could taste the tangy vinaigrette in a few bites. The "garlic aioli," on the other hand, may as well have been Best Foods Mayonnaise, given that it delivered little to no garlic flavor.
Arby's Loaded Italian Sub
is essentially a ham sandwich. It's a pretty ham sandwich, not a bad ham sandwich, but it's a ham sandwich. I give
Arby's Loaded Italian Sub 6 out of 10 stars,
it's passable, but I wouldn't go out of my way for it.
-