-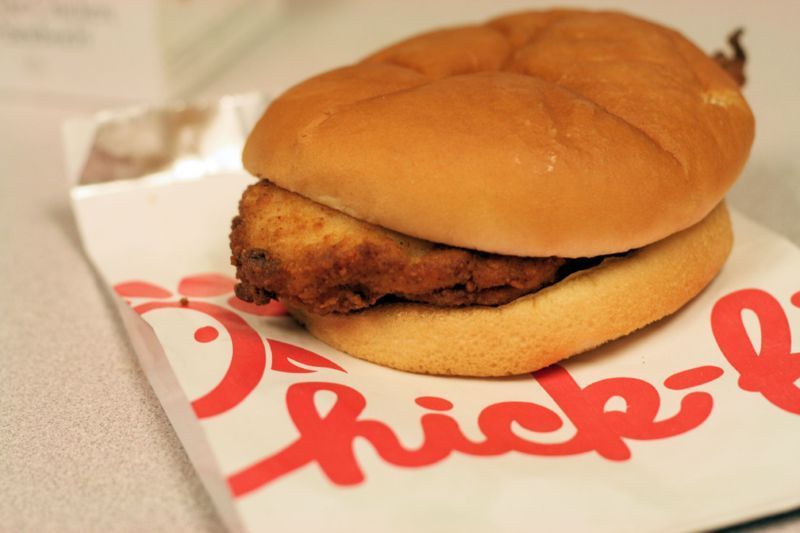 Subject: Chick-Fil-A's signature chicken sandwich | Date: 03/06/2007 | Photographer: J. Reed |This file is licensed under the Creative Commons Attribution-Share Alike 2.0 Generic license.
According to Chick fil-A's site, "Truett Cathy opened a tiny Atlanta diner in 1946, originally called the Dwarf Grill (later renamed The Dwarf House). He then introduced the chicken sandwich concept to the quick-service industry when he opened the first Chick-fil-A restaurant in Atlanta's Greenbriar Shopping Center in 1967. Today, Chick-fil-A has more than 1,700 locations in 38 states and Washington, D.C.."
Out of state friends have told me about Chick Fil-A for years. "You have to try the spicy chicken sandwich," one would say, "The waffle fries are da bomb," another told me. Needless to say, I've been lead to believe Chick Fil-A sells some pretty magical chicken.
On March 31st, the
Tanasbourne branch of Chick-fil-A
opened at 2855 NW Town Center DR Hillsboro, OR 97006. To mark the opening, the restaurant offered a year of free chicken to the first 100 customers through the door. People camped out over night to reserve their place in line. Figuring things would have died down by now, I tried to go there for lunch today.
The drive-thru line was 20 cars deep, showing no signs of motion, and the dine-in line was well out the door. Admittedly, I've never tasted this fast food chicken sandwich, but I'm not waiting in line for 40 minutes for any fast food chicken sandwich. Even if it's the best fast food chicken sandwich in the world, it's still a fast food chicken sandwich.
Perhaps one day, when the crowds have thinned and the dust has settled, I'll be able to taste their spicy chicken sandwich, chicken club, grilled chicken nuggets, biscuits and gravy with eggs and chicken, or their waffle fries. Until then, I'll have to, sadly, remain in the dark.