-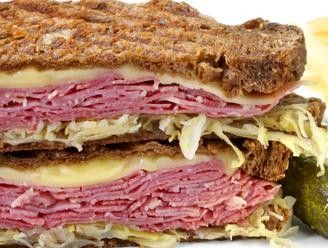 According to
Dictionary.com
,
Pastrami
is defined as
-
pas·tra·mi
-
This is a good definition, as far as it goes. Most serious eaters will tell you though, that what gives
Pastrami
its signature flavor, in addition to the spices & smoke, is the 1/8 of an inch to 1/4 of an inch layer of fat running through the meat.
Yes, there are low fat
Chicken
&
Turkey Pastramis
, which are OK alternatives for the health & weight conscious among us. Still, they're not quite the same as the fatty spicy salty kosher
Beef
treat. Thus, instead of trying to work a low fat version into my diet, on the 14th, I plan to fully satisfy myself by splurging one time on the real McCoy.
Interestingly enough,
Pastrami
probably wasn't originally a cut of
beef
at all. Many historians believe the first
Pastrami
was produced around 1200 A.D., in Turkey, as a brined pork product, seasoned with cloves, allspice, mustard, and paprika. As the Ottoman Empire expanded from Turkey, and the Middle East, into Europe,
Pastrami
was discovered by the Jews who substituted beef for pork in order to adhere to kosher dietary laws.
Beef Pastrami
became popular in European regions with large Jewish populations, such as Romania and Armenia. During this time, the meat could be found in such kosher dishes as
Pastrami Knishes
,
Celery Root Latkes
, etc... Fast forward a few hundred years, and
Pastrami
eventually arrived with Jewish immigrants in New York City, where it became a popular, almost city symbolic, meat.
There are basically two kinds of
Beef Pastrami
,
dry cured
&
wet cured
.
Wet Cured Pastrami
is immersed in, or more commonly coated with, a spiced brine, and the meat is smoked for a few hours, or a day, then is injected with liquid smoke before resting. This method is easiest for mass production, but reportedly lacks depth of flavor.
Dry cured Pastrami
is generally thought of as the superior of the two types, because dry curing draws moisture from the meat, intensifying the flavors of the spices & smoke. Essentially, the meat is rubbed multiple times over the course of days, or weeks, with a spice blend. Then the
Pastrami
is slow smoked with hot smoke.
You can find
complete directions on how to dry cure your own Pastrami here
. Personally though, I'm probably never going to use, or be able to store, a brisket's worth of
Pastrami
, unless I'm giving the stuff away as gifts. Thus, for my money, I'd rather find a grocer, or restauranteur, I trust, and partake of the artisan crafted goods.
For reasons largely unknown,
January 14th
is
National Hot Pastrami Sandwich Day
. As I said I plan to go off my diet a bit and treat myself to celebrate. Below are a few recipes which I may pick from to do just that.
-
"Anytime a person goes into a delicatessen and orders a Pastrami on white bread, somewhere a Jew dies." ~ Milton Berle
Hot Pastrami Sandwiches
Makes 8 sandwiches.
Ingredients
2 lbs cooked and thinly sliced Beef Pastrami
8 slices Havarti Cheese
Coarse ground mustard
16 long thin dill pickle slices
1 thinly sliced large red onion
16 slices artisan rye bread
1 cup beef broth (I recommend using the lowest sodium broth you can find/make, since the Pastrami already contains PLENTY of salt.)
Butter, at room temperature
Preparation
Simmer pastrami in broth until the meat is hot. Divide the meat into 4 ounces for every 2 slices of bread. Spread the mustard onto one side of each of the slices of rye bread, and cover mustard with equal piles of meat. Add cheese, pickles, and onions. Close the sandwiches.
Heat your griddle or skillet over medium heat. Liberally butter the outside of the sandwiches, place the sandwiches in the skillet, and cook for several minutes until browned. Flip the sandwiches to allow the other side to cook. Once both sides are browned, remove the sandwiches from the skillet or griddle. Serve warm, with chips if desired.
-
Rachel Sandwich
The
Rachel
is essentially a
Reuben
with Cole Slaw instead of Sauerkraut, and
Pastrami
instead of Corned Beef.
Ingredients
2 slices rye bread
2 tablespoons Thousand Island Dressing
2 thin slices Swiss Cheese
1/4 cup creamy Cole Slaw (Your favorite deli Cole Slaw is fine, or you can use the recipe below.)
4-5 ounces thinly sliced Pastrami
Butter, at room temperature
Preparation
With a butter knife, spread the Thousand Island Dressing onto one side of each of the slices of rye bread. Place one slice of the Swiss Cheese over the Thousand Island Dressing on each of the slices of rye bread. On one slice of bread, spoon the Cole Slaw over the Swiss Cheese, forming a nice mound evenly over the cheese. Top the Cole Slaw with the
Pastrami
. Close the sandwich.
Again, heat your griddle or skillet over medium heat. Liberally butter the outside of the sandwich, place the sandwich in the skillet, and cook for several minutes until browned. Carefully flip the sandwich to allow the other side to cook. Once both sides are browned, remove the sandwich from the skillet or griddle and place on a cutting board or your work surface.
The gushing Cole Slaw makes this sandwich a bit trickier to cut & serve than its predecessor above, so use the sharp, preferably serrated, knife, and carefully slice the sandwich in half. Apply gentle pressure when slicing to keep the filling within the two slices of bread. Transfer to a plate, serve, and eat.
-
Reduced Fat Spicy Creamy Cole Slaw
This
Cole Slaw
is one I found at
Yummly.com
, and I reduced the sugar & fat just a tad for inclusion on the
Rachel
, which already features sweet Thousand Island Dressing and fatty
Pastrami
.
Ingredients
Dressing


1 cup low-fat mayonnaise
1 tbsp sugar
1/2 tsp salt
1/2 tsp pepper
1/2 tsp celery seed
1/2 tsp garlic powder
1/2 tsp onion powder
2 tbsp cider vinegar

Slaw Mix


3 cups finely shredded green cabbage
1 cup finely shredded red cabbage
1 cup finely shredded carrot
1/4 cup raisins (for sweetness to replace some of the sugar I cut from the dressing)
Preparation
In a large bowl, mix low-fst the mayonnaise, sugar, salt, pepper, celery seed, garlic powder, onion powder and cider vinegar together until the dressing is well blended & smooth. Toss slaw mix with dressing to coat. Chill at least 1 hour before serving, or spreading onto your
Rachel
.
-
Of course, these are just a couple classic variations of the
Hot Pastrami Sandwich
you can enjoy on the
14th
. Feel free to experiment with cheeses, peppers, other veggies, sauces, and breads to celebrate the day in your own way too. Just no Ketchup or white bread please.
Sandwich recipes print as pages 3 & 4 for your refrigerator or recipe file.
-