-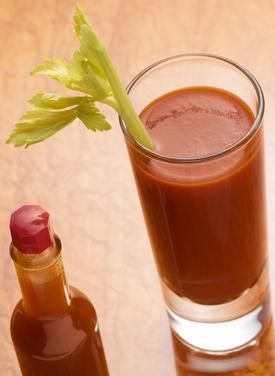 Today is
National Bloody Mary Day
. I can only speculate as to why the first day of the year was chosen to honor to tomatoey cocktail. Perhaps it has something to do with the idea that New Year's Eve is a heavy drinking holiday, and the
Bloody Mary
is fabled to be a hangover remedy.
By the way, there's no clinical or scientific evidence to support the anecdotal claim that the
Bloody Mary
can cure hangovers. Still, the commonly held folk belief and the mass consumption of the beverage by New Year's Eve party goers, awakening the next day, may have made January 1st seem like a natural day to salute the beverage.
-
There's some dispute over the origin of the
Bloody Mary
. The most widely accepted theory is that it was invented, in 1921, at one of
Ernest Hemingway's
favorite haunts in Paris,
Harry's New York
. Supposedly, when bartender,
Fernand Petiot
, first mixed vodka with to

mato

juice

the concoction reminded him a girl name

Mary

, whom he'd known at the Bucket of Blood Club in Chicago. Thus, it was given the name Bloody Mary.
However, others maintain the cocktail n question was invented 9 y

ears later by
comedian George Jessel, who frequented the 21 Club. Some Epicurean historians have reconciled the two theories by claiming

Petiot's

drink was merely a combination of vodka & tom

ato juice

, but it was Jessel who came along later and added the seasonings & celery g

arnish, making it the drink we know today.
No matter what

you believe about
its
beginnings,
the
fact remains that this spicy fresh tasting vitamin rich cocktail, along

with

it crunchy stalk of

palette

c
oo
ling celery, has become a mainstay at countless bars, clubs, and parties. Of course, over the decades numerous variations have emerged

, including, but
certainly not limite
d to

some of the following recipes.
A Bacon Bloody Mary
A Dirty Sriracha Bloody Mary
A Cajun Bloody Mary
A Beer Based Bloody Mary (My friend Michael H. drinks these,

but with V8 juice,

and s

wears by them.)
A Sweet Basil Bloody Mary
Like I said though, in a recent

pizza review, I prefer

mine to be m

ade as follows.
-
Bloody Mary Recipe
This is just the way I like it.
Ingredients:
3 oz tomato juice
1 1/2 oz vodka
1/2 oz lemon juice
1 dash of Worcestershire sauce (optional)
celery salt
2 dashes Tabasco sauce
celery stalk for garnish
Preparation:
Coat the rim of rim of a highball glass with celery salt
Build the first 3 liquid ingredients in glass over ice cubes
Add Tabasco & Worcestershire sauces & stir well
Garnish with celery
-
Whether you like yours smoky, spicy, hoppy, sweet, or traditional, there's undoubtedly a
Bloody Mary
out there somewhere with your name on it. Bottoms up! :-)
Bloody Mary recipe prints individually as page 3 for your fridge or recipe file.
-