-
A few years ago, I wrote a
blog about people feeding people
. The gist of the piece was that when people think of the food culture, they tend to think of top notch restaurants; artisan produced cheese, beer, and wine; gourmet meals, and rich desserts. While I love those aspects of the food culture, examples of
people feeding people
are at the core of the food culture.
My faith in this general truism has been rejustified this week, during the federal shutdown. Furloughed government workers, in the DC area, will not go hungry thanks to the several area establishments within the "foodie" community.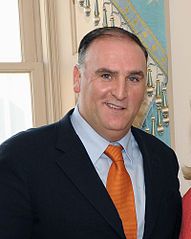 Chef José Andrés, Culinary Ambassador for the Global Alliance for Clean Cookstoves, at the U.S. Department of State in Washington, D.C., on September 13, 2011.
As a work of the U.S. federal government, the image is in the public domain per 17 U.S.C. § 101 and § 105 and the Department Copyright Information.
Renowned chef
Jose Andres
is offering free sandwiches every afternoon during the shutdown to government employees. Bring your government ID into one of his three DC eateries;
Zaytinya
,
Oyamel
, or
Jaleo
; from 3 p.m. to 5 p.m. during the shutdown and receive a complimentary sandwich.
Z-Burger
, the eastern burger chain is offering free burgers, with a valid government ID, to workers during peak lunch and dinner hours, 11 a.m. to 1 p.m. and 5 p.m. to 7 p.m., at four of its DC-area locations: Arlington, Tenleytown, Southwest and Columbia Heights. This offer extends until the end of the government shutdown.
Pork Barrel BBQ,
offers free food for the duration of the shutdown to all government employees. The BBQ joint is serving up free pulled pork sandwiches all day, limit one per day, in Alexandria, Va.
Sophie's Cuban DC,
is showing its support for furloughed government employees by giving away empanadas. Make any purchase at the restaurant, and show a government ID, and patrons will receive three free empanadas.
Taylor Gourmet
, the authentic market specializing in hoagies, is offering furloughed federal workers, "a 10 percent discount, career counseling and a cookie," with the purchase of any hoagie or salad.
Del Campo South American Steakhouse
is offering happy hour prices for the duration of the shutdown, all day long, to patrons with a government ID.
Gourmet Cottage Gourmet Cottage
, a store specializing in gourmet chocolates, wines, foods and gifts, is offering a government shutdown special of 15% off for all furloughed government workers and contractors with a valid government ID, until the government re-opens.
People seem to have an uncanny knack for pulling together during times of hardship and crisis. Even though this phenomenon of generosity has, so far, only manifested itself within the DC area, I have no doubt that many more examples of epicurean beneficence will crop up across the country before this budget debacle is over.
-