-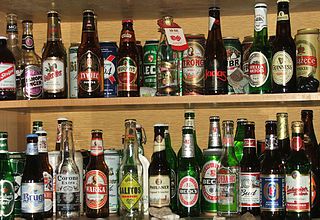 Various beers | Permission is granted to copy, distribute and/or modify
this document under the terms of the GNU Free Documentation License.
This week, the media has run multiple stories describing the federal shutdown's effects on average American citizens, military personnel, federal parks, craft beer... Wait, craft beer?
The
Alcohol and Tobacco Tax and Trade Bureau (TTB)
has the duty to approve new breweries, recipes, and labels. According to
Eater National
, due to the government shutdown, these duties aren't being performed, which is delaying the marketing debuts of new brews such as Fall seasonal beers & ales.
Odds are that the shutdown won't effect big beer companies such as MillerCoors or Anheuser-Busch, but
Burnside Brewing, Bridgeport, Fort George, Widmer, Rogue
, and other craft beer producers are preparing for a savere economic pinch.
Theoretically, the loss of seasonal sales could force small breweries to lay employees off, or close their doors completely. Such closures would narrow the selection of brews available to consumers, marking
an abrupt end to the craft beer boom
.
-