-
I'm a big fan of breakfast. Well, brunch these days, since a two meal per day routine is helping me lose weight. Nevertheless,
bacon, sausages, biscuits & gravy, hash browns, pancakes, waffles, crepes, bagels & lox, donuts
, and
eggs
rank high among my favorite foods.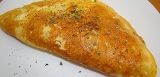 Title: Omelette | Date: 01/09/2010 | Photographer: Stripey the Crab |
This file is licensed under the
Creative Commons Attribution-Share
Alike 3.0 Unported license.
The versatility of the
egg
makes it of special interest to me. Equally good fried, scrambled, poached, baked, boiled, or cooked into a dish, the
egg
offers almost limitless possibilities for preparation and consumption.
A few years ago, I posted a recipe for one of my favorite preparations,
Baked Eggs with Canadian Bacon, Spinach, and Aged Cheddar
, which makes ramekins of savory cheesy gooey goodness, perfect as part of a weekend brunch or as a stand alone breakfast.
More recently I shared my special occasion recipe for
Scrambled Eggs with Brie & Black Truffle
. The
Brie
gives the
scrambled eggs
a smooth creaminess and the
black truffle shavings
added an extra salty/savory quality I highly recommend.
These are good, but time consuming and/or expensive to make. Fortunately,
Foodie.com
included a recipe for
Omelette with Goat Cheese and Herbs,
from the blog
A Thought For Food
,
in one of their latest newsletter. I read the recipe, and its elegant simplicity made me embarrassed that I'd never thought of it before.
The Chèvre (soft goat cheese) gives a rich salty creaminess to the center of the omelette while the herbs deliver a fresh savory flavor, making this a well balanced (flavor-wise) way to begin a day. The ONLY thing I might change is that I might add some dill with the other herbs next time.
-
Omelette with Goat Cheese and Herbs
Source:
A Thought For Food
Yield:
1 omelette
Ingredients:
3 eggs
Splash of milk
2 tablespoons butter
Chèvre (soft goat cheese)
Chopped Fresh Herbs (parsley, tarragon, chives)
Salt and pepper
Instructions:
1. Crack the eggs into a bowl and pour in a splash of milk. Whisk for 30 seconds, until frothy.
2. Heat butter in a 10 inch non-stick skillet over medium-high heat. Once the butter has melted and becomes foamy, pour in the egg. After a minute, lift the edges of the omelette with a rubber spatula and tilt the pan to allow the uncooked egg to run underneath.
3. Once the egg starts to set, but is still loose, sprinkle the Chèvre along the center of the omelet. Using the rubber spatula, fold Sprinkle in one-third of the filling down the center of the omelet and sprinkle with one-third of the goat cheese. Using a rubber spatula, fold the omelette towards the center over the filling.
4. Transfer the omelette to a plate and sprinkle chopped herbs on top. Season with salt and pepper. Serve with toast or a salad or sliced fruit.
-
Recipe prints as single page for your recipe file or refrigerator.
-