-
While it's true the first nationally televised cooking show was
I Love to Eat
, on NBC, hosted by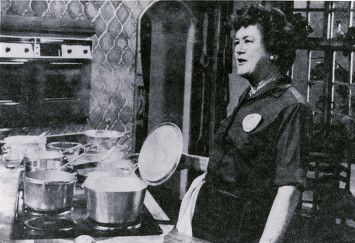 Title: Julia Child gives the KUHT audience a cooking demonstration | Date: Unknown | Source: KUHT | This picture was made available under the Creative Commons CC0 1.0 Universal Public Domain Dedication.
James Beard in 1946, it's pretty safe to say that
Julia Child's The French Chef
, which had its debut on February 11, 1963, on WGBH, brought the food show genre into the realm of main stream pop culture. Those early televised lessons in French cooking sparked a line of publicly broadcasted cooking shows including
The Frugal Gourmet, Graham Kerr: The Galloping Gourmet, Louisiana Cookin' with Justin Wilson
, and
Yan Can Cook
among many other 30 minute epicurean tutorials.
Public Broadcasting remained the dominant force in food entertainment until November 23, 1993, when shows such as
Emeril Live – hosted by Emeril Lagasse, The Naked Chef – hosted by Jamie Oliver
, and
Sara's Secrets – hosted by Sara Moulton
debuted on the new
Food Network
. For the next 20 years viewers were treated to an array of informative how-to cooking shows such as
30 Minute Meals – hosted by Rachael Ray, Barefoot Contessa – hosted by Ina Garten, Everyday Italian – hosted by Giada De Laurentiis, Grill It - hosted by Bobby Flay
, and, my personal favorite,
Good Eats – hosted by Alton Brown
.
While some of these shows still exist, food TV is currently devolving from being an instructional resource, into a gluttony of increasingly silly food competitions. For the record, I enjoy
Chopped
and
Iron Chef
, which show chefs working with unique ingredients in creative ways. However, on any given day we can see cooks "sabotaging" one another in
Cutthroat Kitchen - hosted by Alton Brown
, cooks struggling to out cook Bobby on, the OBVIOUSLY rigged,
Beat Bobby Flay – hosted by Bobby Flay
, and chefs losing oxtails and chicken livers based on a draw of the cards on
Kitchen Casino - hosted by Bill Rancic
.
Even with the abundance of dumbed down offerings being served up to food fans, there is still hope for intelligent audiences. One gold nugget,
America's Test Kitchen
, offers recipes and product reviews back on PBS. However, I turn to online podcasts for the bulk of my food news these days.
Unless something comes up, Sunday is the day I listen to food related podcasts, including
The Splendid Table
,
America's Test Kitchen Radio
,
Wine Life Radio
,
Beer Sessions Radio
,
Cutting The Curd
,
A Taste of the Past
, and the
NPR: Food Podcast
, which have stockpiled themselves on my ITunes through out the week. I enjoy listening to them back to back, as if they were segments of my own Food Network lineup.
The nice thing about food podcasts, or podcasts in general, is that a listener can work and learn something at the same time. This week I was made aware of labor issues related to cheese mongering, learned about vintages from Moshin Vineyards, was briefed on the history of culinary knives, and learned that experts are no longer advising people to eat low fat in order to lose weight & stay healthy.
The Splendid Table
did a story about capers. During the segment, their guest, David Rosengarten, explained,
"They do make something quite special on the the west coast of the main island of Sicily. There is a place called Trapani where they make a local form of pesto. They call it pesto, but it doesn't look like our pesto. Our pesto is very basily and green, but theirs is quite red because they make it with tomatoes. They also pound almonds into it and they add, of course, capers to it."
Intrigued by the idea of red pesto, I looked up the recipe.
-
Pesto alla Trapanese - (Pesto Trapani style)
Recipe found at
Nigellissimaandrobert.blogspot.com
Ingredients:
500g/1lb 2oz fusilli lunghi or other pasta of your choice
salt, to taste
250g/9oz cherry tomatoes
6 anchovy fillets
25g/1oz sultanas
2 garlic cloves
1 tbsp capers, drained and rinsed
50g/2oz blanched almonds
4 tbsp extra-virgin olive oil
small bunch basil, leaves picked
Procedure:
Put abundant water on to boil for the pasta, waiting for it to come to the boil before salting it. Add the pasta and cook according to packet instructions, though start checking it a good two minutes before it's meant to be ready.
While the pasta is cooking, make the sauce by putting all the remaining ingredients, bar the basil, into a processor and blitzing until you have a nubbly-textured sauce.
Just before draining the pasta, remove a cupful of pasta-cooking water and add two tablespoons of it down the full of the processor, pulsing as you go.
Tip the drained pasta into your warmed serving bowl, Pour and scrape the sauce on top, tossing to coat (add a little more pasta-cooking water if you need it) and strew with basil leaves.
-
I haven't had time to try it yet, but my point is that the show exposed me to variation of pesto, which I wouldn't have considered. In a day when food TV is largely becoming a lineup of food related game shows, it's nice to still have access to productions which provide listeners with actual food related news and ideas.
-
Recipe prints as a single page for your recipe file or refrigerator.
-