-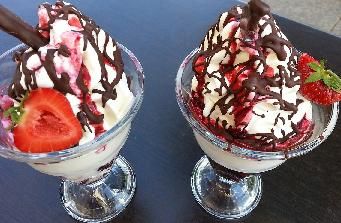 Subject: Ice Cream | Date: 06/15/2013 | Photographer: palnatoka|
This file is licensed under the Creative Commons Attribution 3.0 Unported license.
Recently, a friend of mine, Shane, noticed that the "ice cream" in his freezer was labeled as a "frozen dairy dessert" instead of ice cream. Confused, he sent an email to the manufacturer asking for an explanation.
The answer actually lies with the legal definition of "ice cream." According to
7 CFR 58.2825 - United States Standard for ice cream,
"Ice cream shall contain at least 1.6 pounds of total solids to the gallon, weigh not less than 4.5 pounds to the gallon, and contain not less than 20 percent total milk solids, constituted of not less than 10 percent milkfat. In no case shall the content of milk solids not fat be less than 6 percent. Whey shall not, by weight, be more than 25 percent of the milk solids not fat."
The product in question didn't list milk or cream as ingredients, making the "dairy" portion of the label a complete mystery. Nevertheless, the lack of milkfat puts the dessert alongside sorbet, sherbert, and frozen yogurt as part of the category of non-ice cream frozen desserts.
Historians can trace the origins of frozen treats, in general, back to ancient times. Biblical evidence suggests King Solomon was fond of iced drinks, akin to Slushies, during harvesting.
Proverbs 25:13 ~ "Like a snow-cooled drink at harvest time
is a trustworthy messenger to the one who sends him;
he refreshes the spirit of his master."
Then d
uring the Roman Empire, Nero Claudius Caesar (A.D. 54-86) frequently sent runners into the mountains for snow, which was then flavored with fruits and juices making, perhaps, the first snow cones.
Over the next thousand plus years, such treats began to evolve. In the late 13th century, Marco Polo returned to Italy, from the Far East, with a recipe which resembled modern sherbet. The confection found its way to England, sometime in the 16th century, where it morphed into something we'd recognize as ice cream. By the 17th century "Cream Ice," as it was called, was a luxury enjoyed by the British aristocracy, and appeared regularly at the table of King Charles I.
Catherine de Medici introduced similar frozen desserts to the French elite in 1553. However, it wasn't until 1660 that ice cream was made available to the general public when the Sicilian Procopio sold a dessert of blended milk, cream, butter, and eggs at the first café in Paris, Café Procope.
The first record of ice cream in America comes from a letter written in 1744 by a guest of Maryland Governor William Bladen. It was another 33 years before the first advertisement for ice cream in this country appeared in the New York Gazette on May 12, 1777, when confectioner Philip Lenzi announced that ice cream was available "almost every day."
In early America, the "soda jerk" sold ice cream sodas, a beverage that consists of ice cream in either a soft drink or in a mixture of flavored syrup and carbonated water, from eateries called, appropriately enough, soda shops. The, seemingly innocuous, beverage was popular with young people and ladies, who didn't frequent taverns.
Yet, religious zealots objected to the "sinfully" rich ice cream sodas being consumed on Sundays. Thus, a clever confectioner in, Evanston, Illinois, drizzled flavored syrup across scoops of ice cream, left out the carbonated water, and invented the ice cream "Sunday" in 1890. The name was eventually changed to "sundae" to remove any connection with the Christian Sabbath Day.
In 1984, President Ronald Reagan designated July as
National Ice Cream Month
. In the proclamation, President Reagan called for all people of the United States to observe these events with "appropriate ceremonies and activities." I, for one, am happy to do so.
One can celebrate with any one of a number of desserts, including:
Ice Cream Soda - a beverage that consists of ice cream in either a soft drink or in a mixture of flavored syrup and carbonated water
Root Beer Float - an ice cream soda made with ice cream floating in root beer
Milkshake - a sweet cold beverage which is usually made from milk and ice cream
Ice Cream Sundae -

ice

cream

topped

with

a

sweet

sauce,

nuts,

whipped

cream,

etc...

Banana Split -

three sundaes (strawberry ice cream topped with chocolate syrup, chocolate ice cream topped with crushed pineapple, and vanilla ice cream topped with strawberry syrup, each garnished with whipped cream and a maraschino cherry) side by side between two halves of a banana, sliced lengthwise

Hot Fudge Sundae - a variation on the classic sundae made from ice cream, sprinkles, hot chocolate sauce (hence the "hot fudge"), whipped cream, nuts, and a single bright-red maraschino cherry on top
Turtle Sundae - a combination of vanilla ice cream, hot fudge sauce, hot caramel sauce, and toasted pecans
Ice Cream Cone - a thin, crisp, hollow conical wafer holding one or more scoops of ice cream
Dipped Cone -

ice cream in a cone dipped in chocolate which turns hard

Ice Cream Sandwich -

a layer of ice cream sandwiched between two biscuits, cookies, or slices of cake

Ice Cream Bar - ice cream, on a stick, coated in a layer of chocolate to prevent the ice cream from melting and dripping
There are literally hundreds, if not thousands, of other ice cream creations, and variations of creations, to choose from. Such creations can be made with almost any flavor of ice cream, including, but certainly not limited to:
Chocolate
Strawberry
Vanilla
French Vanilla
Mint Chocolate Chip
Cookies and Cream
Cookie Dough
Butter Pecan
Peanut Butter Swirl
Raspberry Truffle
Coffee
Moose Tracks
English Toffee
Dark Chocolate Chip
Double Chocolate
Pistachio
Cherry Vanilla
Butterscotch Vanilla
Chocolate Chip
Rum Raisin
Peach
Pralines and Cream
Mocha Chip
Rocky Road
Cinnamon
Vanilla Fudge
Mango
Butter Almond
Macadamia Nut
And a boat load more...
It's a widely held sentiment that the spirit of America is the spirit of individualism. President Reagan may have had this idea in mind when he granted ice cream a national month of its own. Given the variety of flavors ice cream comes in and the myriad of things one can do with it, ice cream can be made to conform to the taste of any dairy compatible individual.
-