-
Every region has their food tradition which instantly reminds an eater of the bailiwick which claims the dish as its own. Philadelphia has the cheesesteak, Chicago has deep dish pizza, Maine has clam chowder, Boston has the baked bean sandwich, etc...
Even though I hadn't heard of it before, "hot chicken," chicken which has been soaked in buttermilk, coated in; chili powder, paprika, and other spices; then fried until a spicy red crust forms, has become the signature dish of Nashville, Tennessee. This week the fast food chain, KFC, unveiled its version of hot chicken at all 4,300 U.S. locations.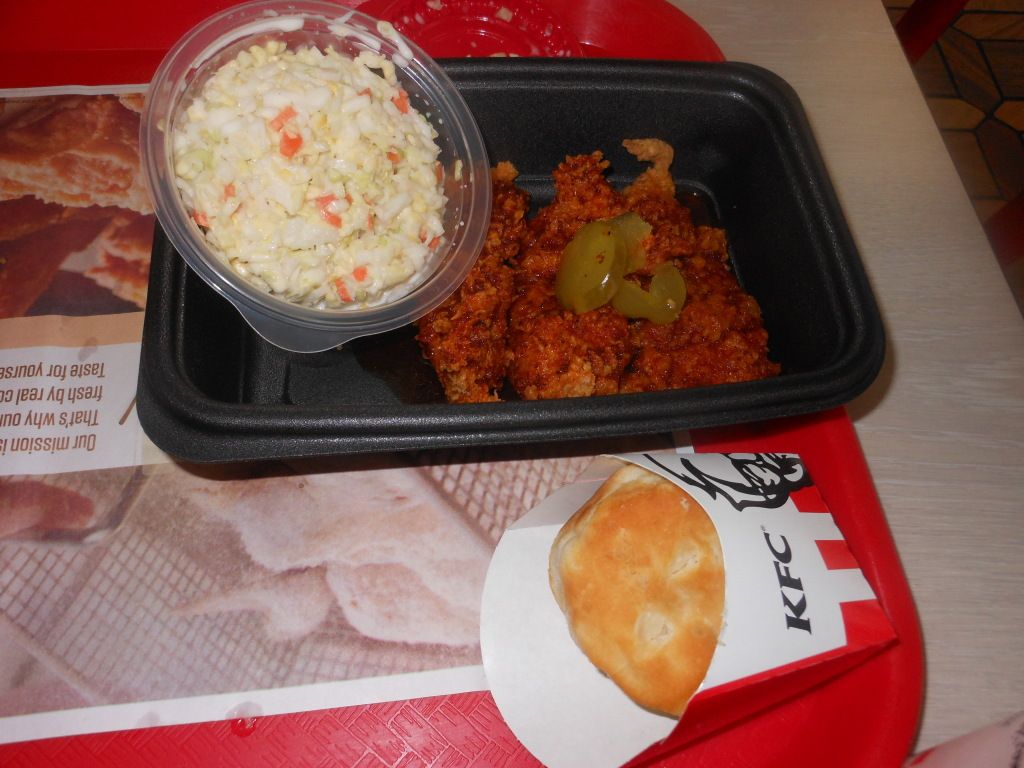 Subject: KFC's Hot Chicken 3 Tenders Meal | Date: 01/21/16 |
Photographers: James Kiester & Dani Cogswell | This picture was taken by the author of this blog. |
For $5.49, diners have a choice of three chicken tenders or chicken on the bone (breast, drumstick and thigh) served with coleslaw and pickle chips to balance the spiciness. Instead of the traditional slice of white bread to mop up the red sauce, the meal comes with KFC's signature buttermilk biscuit.
Larger portions are available, topping out at the 24-piece "tailgate platter" of hot chicken tenders for $29.99, which will probably be a big seller on February 7th.
I went to the KFC at 3340 SW Cedar Hills Blvd. in Beaverton, Oregon and had the three tenders meal. I received three spicy chicken strips, three slices of dill pickle, a single serving of coleslaw, and a biscuit.
Given the number of $4 & $5 value meals on the market, which come with a drink, I was a bit surprised this spice-centric meal didn't include a beverage. Thus, I shelled out the $1.50 for a medium Diet Pepsi, bringing my lunch to $6.99.
The slaw was KFC's regular sweet creamy coleslaw, and the biscuit was their normal soft biscuit accompanied by a package of Honey Sauce and a package of spreadable butter. They both proved to be necessary counters to the spice of the chicken.
The dill pickle slices were tart an tasty, but not outstanding. Given their tiny size and the fact I only got one slice per chicken strip, they were little more than a garnish, not adding much to the meal.
The chicken itself was served as three three inch red crispy strips bathed in a thin red sauce. These were extremely spicy. A few bites made my face red and my nose run. Beneath the spice were welcome flavors of smoke and a Teriyaki-like sweetness, which made for a complex bite.
Eaters who like, and can tolerate, extremely spicy food will find this chicken to be a delicious alternative to the Colonel's standard fare. I give the
Nashville Hot Chicken Tenders themselves 8 out of 10 stars
, but I can only give the
meal, as a whole, 7 out of 10 stars
.