-
Recently, Bravo aired the season finale of
Top Chef: Masters
. With the number of DVRs ad OnDemand services out there, I'm not going to talk about the judging or who won, so don't worry about spoilers. During the episode though, they asked participants what dish first made them passionate about food. The question intrigued me. I wondered how I would answer the question; after a prolonged jaunt down Memory Lane, I finally figured it out.
Those who've read
"My Culinary Philosophy"
know the story the five year old me's epicurean curiosity being tweeked by the story book
"Button Soup"
. Yet, I don't think my appetite for food was kicked into overdrive until seven years later. We lived in an unincorporated suburb about thirteen miles outside of Portland proper. A few miles away from us sat an Italian restaurant called
Nona Emelia's
. Even though the red barn-looking restaurant was, and still is, in Beaverton, it was earning one Portland restaurant award after another. Radio personalities were talking about the best pizza they had ever eaten; adult neighbors raved about the pasta to my parents. Finally, my parents put my two brothers and I in the car, and drove to Nona Emelia's for dinner.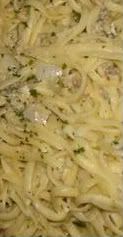 Being white suburbanites, we'd had pepperoni, salami, provolone cheese and vegetables before, of course, but we hadn't had those foods served to us as antipasto to start a meal before. Thus, I was impressed right off the bat. It was my entrée though which truly converted me to foodyism. I had a gum soar, and didn't want Spaghetti with Tomato Sauce, so I ordered the creamy non-acidic
Linguine alla Vongole
(Linguini with clams, garlic, herbs, and bacon in a cream sauce). The salty smokiness of the bacon played wonderfully against the flavors of the clams, garlic, and herbs all within the creamy smooth delivery system. I was hooked on Italian cream sauces from that moment on.
The next few years saw me trying to replicate the recipe. When I learned of the existence of Liquid Smoke, which would bring out the flavor of the bacon, I thought I'd cracked the last secret of the dish. Pleased with myself, I took the recipe to college with me. Eventually, I "taught" the dish to my friend and dorm neighbor, Gina. We had our parents drive down for an Italian meal, and made the dish for them. Unfortunately, I'd overlooked the need to save the bacon fat and thicken the sauce. The result was a garlicky clam flavored water-like substance over pasta.
After several more attempts, I finally hit upon the following recipe.
-
Linguine alla Vongole (Linguini with Clam Sauce)
Ingredients:
12 ounces of linguine
2 8 oz cans of diced or minced clams
7 oz streaky bacon, diced
3 drops liquid smoke
4 tablespoons unsalted butter
1 tablespoon minced fresh rosemary, or 1 teaspoon dried
1 cup heavy cream
Salt and freshly ground black pepper
Freshly grated nutmeg, to taste
1/2 cup freshly grated Parmesan cheese (or to taste)
2 tablespoons minced fresh parsley
Procedure:
Heat the oil and butter in a large pan. Drain the liquid from canned clams into the cream. Fry bacon until crisp, and crumble it. Add the diced bacon & clams to the pan, and simmer lightly. Cook the linguini, following packet directions and avoid over-cooking. Meanwhile, in a large skillet set over moderately low heat, melt the butter, add the rosemary and cook it, stirring, for 1 to 2 minutes. As soon as the pasta is cooked, drain and add it to the pan. Add the cream, salt, pepper, liquid smoke and nutmeg. Drain the pasta and add it to the large bacon pan, stir well. Remove the pan from the heat. Toss to coat and let reduce 1 to 2 minutes, gently stirring, or until lightly thickened. Add Parmesan to taste, toss to combine
and transfer to serving dish. Sprinkle with parsley. Serve at once.
-
Yes, I use canned clams. You can use fresh clams if you want, but you won't be able to add the juice from the can to flavor the sauce. I won't lie, my version is oh so close, but not quite as good as it's restaurant born counterpart. IT IS however, a delightfully savory smoky creamy dish, which hasn't disappointed me, or guests, for years.
So, what dish first inspired your passion for food and the culinary arts? Leave your answer in the comment section.
-