-
Penzeys
is a gourmet spice shop chain, headquartered in Milwaukee, Wisconsin. Founded in 1986, the spice retailer sells a wide selection of spices and proprietary seasoning blends from 70 stores in 29 states.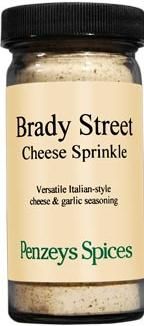 Subject: Brady Street Cheese Sprinkle 2 oz. jar | Source: Penzeys.com |
I personally love their
Brady Street Cheese Sprinkle
, which is a blend of Romano cheese salt, garlic, green peppercorn, basil and parsley. I sprinkle it on salads and batches of popcorn. The blend gives the snack a cheesy salty kick, with a hint of pepper and an herbaceous undertone. I've also added it to sour cream
(1 TB. sprinkle to 1 cup sour cream)
to make a savory dip for chips, pita bread, or crudités.
Being a fan of their shop, I subscribe to their online newsletter so I'm aware of sales and specials. During the recent 35 day government shutdown, I noticed chain owner, Bill Penzey, used the newsletter to call Trump to the mat and to offer free spices to furloughed government workers. I was impressed, but thought of it as an extraordinary gesture during a remarkably hard time, akin to chef Jose Andres' opening an emergency kitchen to feed furloughed government workers.
Apparently, I hadn't been paying close attention to the newsletters. Bill Penzey seems to have a history of making political statements in his company's newsletters. Just after Donald Trump was elected president, Penzey used the holiday newsletter to refer to Trump as a racist.
"The open embrace of racism by the Republican Party in this election is now unleashing a wave of ugliness unseen in this country for decades,"
Penzey wrote to his customers.
One, predictable in retrospect, result of his outspokenness was a backlash from conservative customers. Trump loyalists took to Twitter with the hash tag
#boycottpenzeys
.
So what do you do when a movement calls for a boycott of your stores? Obviously, if you're Bill Penzey, you find out who called for the boycott and have a boycott sale on his birthday. It's the retail equivalent of showing your critics a center digit.
A time honored rule of thumb suggests that businesses should project an air of political neutrality so as not to alienate a portion of the consumer base. Penzey has bucked that trend in order to speak his truth. In Penzeys Boycott Sale Newsletter he writes, "We opened our stores to radiate the very Milwaukee idea of building a better future by caring about others."
I, for one, applaud their stance on making morality a company priority. Sure, they're first and foremost a spice retailer. Yet, Bill Penzey has some deeply held beliefs and he's using a platform at his disposal to express those beliefs. That's as it should be.
I blog about food here, but I maintain a
political blog
, a
liberal Christian blog
, and yes a
science fiction blog
as well, because I think about things outside the epicurean realm. Mr. Penzey is undoubtedly the same way, only with a larger platform to get his message across. Businesses with the courage of Penzeys should be rewarded with patronage rather than boycotted.