-
In addition to being an avid foodie, I'm a fan of comic books. During my last several trips to pick up my weekly helping of heroic fantasies, I've noticed the presence of a new pub, a block from the comic book shop.
Brannon's Brewery & Pub
at 3800 SW Cedar Hills Blvd. Beaverton, OR, sits in the space Stewart Anderson's Steak House occupied during the better part of my childhood and early adult life.
Always interested in new sources of beer and fried bar food, my friend, Dani, and I decided to try the place last week. The pub has a very open and spacious feel, with a series of widely spaced dining tables surrounding a centrally located bar. Along the left side of the dining area one finds doors to rentable V.I.P. rooms, while the back wall consists of viewing windows which peer into the pub's beer making/storage facility.

Subject: Blackboard with beer list at Brannon's Brewery & Pub | Date: 04/29/15 |
Photographers: James Kiester & Dani Cogswell | This picture was taken by the author of this blog. |
Subject: View of in house beer vats from Brannon's Brewery & Pub's dining area | Date: 04/29/15 |
Photographers: James Kiester & Dani Cogswell | This picture was taken by the author of this blog. |
We arrived around 1pm. Their lunch menu has multiple sections, featuring a variety of fare. I was debating between the:
$9.00
small
($14.00 for the large)
Pearl Pizza
(herbed olive oil sauce, aged Manchego cheese, shaved Prosciutto, marinated red grapes, roasted garlic, and fresh baby arugula),
$12.50
($14.00 with fries)
Brannon's Burger
(a Mt. Shadow Farms beef burger patty stuffed with smoked Gouda, topped with caramelized onions, tomato and greens), and the
$12.00
Three Sausage Platter
(a platter of three fine sausages from Mt. Shadow Farms; a bratwurst made with their own Vernepator Pale Ale, a hot Italian sausage and a German sausage; served with a German-style pretzel from Fressen Bakery, Brannon's beer mustard and house-made bacon jam);
when I noticed the appetizer menu offered $9.00 Scotch Eggs. I hadn't had a Scotch Egg since
my birthday dinner at The Horse Brass
three years earlier, so I jumped at the chance to have another.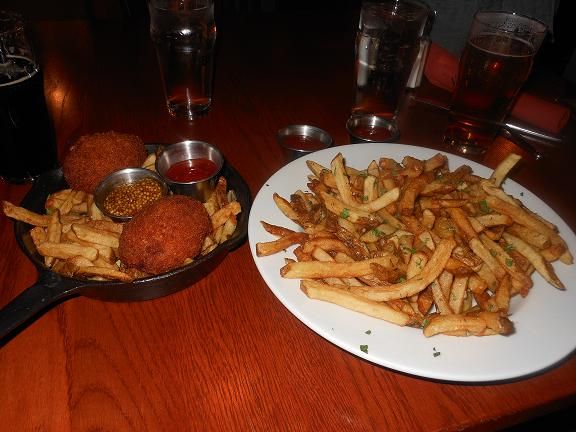 Subject: Scotch Eggs & Fries served with house made Beer Mustard and Garlic Fries |
Date: 04/29/15 | Photographers: James Kiester & Dani Cogswell | This picture was taken by the author of this blog. |
Swedley's Scotch Eggs
consisted of two medium boiled eggs wrapped in Hill Meats' Italian sausage, then deep fried. The eggs were served on a bed of hand cut fries accompanied by jiggers of ketchup and Brannon's beer mustard. Being medium boiled, the eggs' yolks were semi liquid serving as a sauce to the pleasantly spicy sausage. While the savory fried treat didn't need a condiment in order to be tasty, the grainy beer mustard added a sweet spiciness to the dish.
The fries bore skins on both ends and were well seasoned with salt.
I drank a $4.50 pint of
Pantechnicon Brown Porter
with my lunch. The Brown Porter is described as having "unmistakable aromas and flavors of bittersweet chocolate and toasted nuts," with an
*ABV value of
4.8%. Honestly, I've had several beers which have claimed to possess notes of chocolate, and none of them, including this one, have delivered on the claim. Nevertheless, it was a smooth dark beer with a toasted, slightly sweet, taste.
My friend, Dani, isn't the foodie that I am. She complained about exactly the same thing which I liked about the pub. She felt the menu was heavy with, in her words, "pumped up food, featuring smoked Gouda, blue cheese, etc...," and there were few, if any, mundane dishes for eaters like herself. I'm not sure she saw the, aptly named,
Burger Burger
(a Mt. Shadow Farms beef burger patty topped with fresh greens, sliced tomato, and onion) for $9.00, but I understood her point.
I any case, she finally settled on the
$5.00 Garlic Fries
. Like mine, they were fresh hand cut fries, but were seasoned with sea salt and roasted garlic, and were sprinkled with herbs. While the herbs mostly added color to the helping of potatoes which could feed three people, the fries delivered a nice kick of garlic and salt.
Eaters looking for good beer and well crafted bar food will enjoy
Brannon's Brewery & Pub
. I give the place
8.4 out of 10 stars.
Brannon's Brewery & Pub's Hours
Monday-Thursday:
11AM to 10PM
Friday:
11AM to 11PM
Saturday:
11AM to 11PM
Sunday:
11AM to 10PM
Happy Hour 3pm-6pm Sunday thru Friday
* Alcohol By Volume
-