-
Well, it's the end of
Oregon Craft Beer Month
. Honestly, I didn't get to visit all the brew pubs I'd hoped to. However, I
DID
discover a handful of great
Oregon Craft Beers
.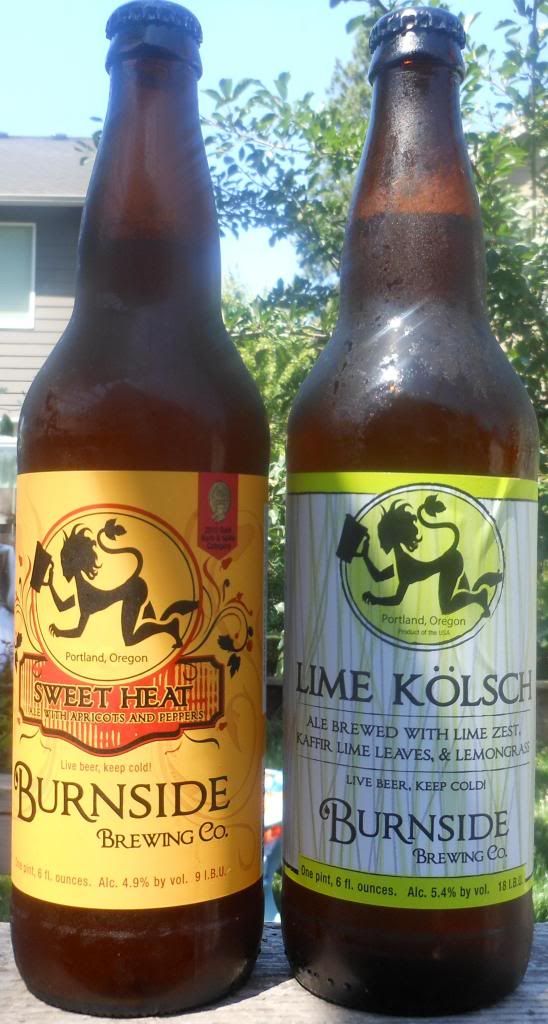 Burnside Brewing Company's Sweet Heat
- was recommended to me by my friend, and fellow foodie, Lisa Jordan. I went to
New Seasons
to pick up a bottle only to discover the market was giving away free samples of the very beer I was looking for. Lucky me! :-)
This is a wheat ale with an addition of 200 pounds of Apricot puree, then dry hopped with imported Jamaican Scotch Bonnet peppers.
Sweet Heat
has a subtle tartness from the fruit with a bold, even HOT, spiciness from the peppers which makes for an unique drinking experience. If you like a good kick of heat, this beer is worth trying. The only drawback is in trying to find a food to pair it with.
-
Burnside Brewing Company's Lime Kolsch
- is brewed as a German style Kolsch made with; premium pilsner malt, Munich malt, wheat, Tettnanger hops, German ale yeast, lime zest, Kaffir Lime leaf, and lemongrass; to produce a crisp dry beer that begins hoppy and finishes with a pleasant lime taste.
I drank this
Kolsch
as part of a modified version of a Ploughman's lunch (Cambozola & Triple Creme Brie on buttery crackers, Smoked Gouda, and half a salted red bell pepper) on a hot afternoon. The beer worked nicely against the rich fatty cheeses, and was very refreshing during the day's heat.
-
Lompac Brewery's Kick Axe Pale Ale
- is a crisp, easy drinking pale ale. Dry hopped in the fermenter,
Kick Axe
has a very hoppy initial flavor & aroma with a citrus-esc note on the finish.
I found this beer at a pub in Old Town Sherwood, and ordered it to accompany a Fried Oyster Club Sandwich. I honestly have to report, the beer's grapefruit undertone was, by far, the best part of the meal.
Fried oysters should never be black with char.
-
Razz Wheat Beer
from Hillsboro, Oregon's
Vertigo Brewing
- This summer beer is brewed with over twelve pounds of real raspberries per barrel. In appearance,
Razz
is the color of clouded ocher with a red blush. Raspberry flavors are pronounced, but don't overpower the taste of dry wheat & hops.
I drank this alongside a Cabo-Cado Sandwich (Bacon, guacamole, house made spicy mayo, lettuce & tomato) at
Primrose & Tumbleweeds
. The sweet fruitiness of the beer played well against the smokey salty fatty spicy sandwich.
-
Of course, the month being over doesn't mean I'm going to end my exploration of
Oregon Craft Beers
. There are literally hundreds of varieties I still want to try, and one month simply isn't enough time.
What's your favorite Oregon Craft Beer?
-